JAMES Tim
Ecology and Evolutionary Biology, University of Michigan, Ann Arbor, United States of America
Eukaryotic pathogens/symbionts, Evolution of hosts, infectious agents, or vectors, Genomics, functional genomics of hosts, infectious agents, or vectors, Pathogenic/Symbiotic Fungi, Phylogenetics of hosts, infectious agents, or vectors, Taxonomy of hosts, infectious agents, or vectors
recommender
Recommendation:
1
Reviews:
0
Areas of expertise
I am current the Curator of Fungi and Professor of EEB at U. Michigan. I received my PhD in Biology from Duke University where I studied the evolution of fungal mating systems and the fungal tree of life. My research uses molecular tools to characterize the ecology and population biology of fungi. Current projects involve characterizing the diversity of mycoviruses and understanding their influence of on pathogen phenotypes, the population genetics of amphibian chytridiomycosis, exploring the evolutionary impact of mitotic recombination, and using single cell genomics to reconstruct the fungal tree of life.
Recommendation: 1
03 Nov 2023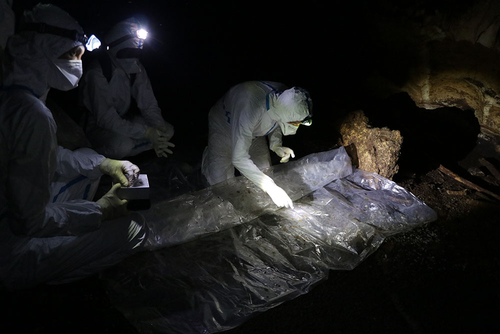 Longitudinal Survey of Astrovirus infection in different bat species in Zimbabwe: Evidence of high genetic Astrovirus diversity
High diversity and evidence for inter-species transmission in astroviruses surveyed from bats in Zibabwae
Recommended by Tim James based on reviews by 2 anonymous reviewers
Most infectious diseases of humans are zoonoses, and many of these come from particularly species diverse reservoir taxa, such as bats, birds, and rodents (1). Because of our changing landscape, there is increased exposure of humans to wildlife diseases reservoirs, yet we have little basic information about prevalence, hotspots, and transmission factors of most zoonotic pathogens. Viruses are particularly worrisome as a public health risk due to their fast mutation rates and well-known cross-species transmission abilities. There is a global push to better survey wildlife for viruses (2), but these studies are difficult, and the problem is vast. Astroviruses (AstVs) comprise a diverse family of ssRNA viruses known from mammals and birds. Astroviruses can cause gastroenteritis in humans and are more common in elderly and young children, but the relationship of human to non-human Astroviridae as well as transmission routes are unclear. AstVs have been detected at high prevalence in bats in multiple studies (3,4), but it is unclear what factors, such as co-infecting viruses and bat reproductive phenology, influence viral shedding and prevalence.
In this recommended study, Vimbiso et al. (5) study the prevalence and diversity of astroviruses in different insectivorous and frugivorous chiropteran species roosting in trees, caves and building basements across Zimbabwe, a region never investigated for astroviruses. Using both pooled population samples and individual samples from 11 different sites, the authors screened for astrovirus prevalence via RT-PCR and identified bat taxa using mitochondrial gene sequencing. An overall prevalence of 10-14% infection was recorded. No clear association of increased astrovirus and coronavirus coinfection was detected, and although astrovirus infection varied over the season, it did not do so in consistent ways across the two primary sampling sites, Magweto and Chirundu. A phylogeny generated by sequencing all of the astrovirus positive samples showed evidence that most of the viral lineages are transmitting within species but across Zibabwae such that most phylogenetic lineages grouped viruses from the same host species together. However, there was ample evidence for interspecies transmission between bats. Finally, a small percentage of the total astrovirus diversity from Zibabwae clustered with sequences from humans. The timing and direction of the transmission between humans and bats need further investigation.

This study provides important baseline data about viral diversity and does an excellent job of capturing the spatial, temporal, host species, and sequence level dynamics of the astroviruses. There are clear limitations on how this study can be interpreted due to different sampling regimes and, in particular, the fact that each of the two primary sites was only explored for temporal variation over a single calendar year. That said, the grand diversity of astroviruses demonstrated in insectivorous bats in Zibabwae shows that we are only seeing the very tip of the iceberg with respect to viral diversity with zoonotic potential. As suggested by the reviewers, more studies like this are needed to understand the basic ecology of viruses and to aid in predicting epidemics.
References
1. Mollentze N, Streicker DG. Viral zoonotic risk is homogenous among taxonomic orders of mammalian and avian reservoir hosts. Proceedings of the National Academy of Sciences. 2020 Apr 28;117(17):9423-30. https://doi.org/10.1073/pnas.1919176117
2. Carroll D, Daszak P, Wolfe ND, Gao GF, Morel CM, Morzaria S, et al. The Global Virome Project. Science. 2018 Feb 23;359(6378):872-4. https://doi.org/10.1126/science.aap7463
3. Lee SY, Son KD, Yong-Sik K, Wang SJ, Kim YK, Jheong WH, et al. Genetic diversity and phylogenetic analysis of newly discovered bat astroviruses in Korea. Arch Virol. 2018;163(11):3065-72. https://doi.org/10.1007/s00705-018-3992-6
4. Seltmann A, Corman VM, Rasche A, Drosten C, Czirják GÁ, Bernard H, et al. Seasonal Fluctuations of Astrovirus, But Not Coronavirus Shedding in Bats Inhabiting Human-Modified Tropical Forests. EcoHealth. 2017 Jun 1;14(2):272-84. https://doi.org/10.1007/s10393-017-1245-x
5. Vimbiso C, Hélène DN, Malika A, Getrude M, Valérie P, Ngoni C, et al. Longitudinal Survey of Astrovirus infection in different bat species in Zimbabwe: Evidence of high genetic Astrovirus diversity. bioRxiv, 2023.04.14.536987, ver. 6 peer-reviewed and recommended by Peer Community In Infections. https://doi.org/10.1101/2023.04.14.536987