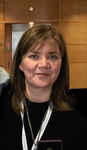 MACLEOD Annette
Institute of Biodiversity, Animal Health and Comparative Medicine, University of Glasgow, Glasgow, United Kingdom
Animal diseases, Cell biology of hosts, infectious agents, or vectors, Coevolution, Evolution of hosts, infectious agents, or vectors, Genomics, functional genomics of hosts, infectious agents, or vectors, Interactions between hosts and infectious agents/vectors, Molecular genetics of hosts, infectious agents, or vectors, Parasites, Population genetics of hosts, infectious agents, or vectors
recommender
Recommendation:
1
Reviews:
0
Areas of expertise
I work on single-celled parasites called African trypanosomes. African trypanosomes present a significant burden to large areas of sub-Saharan Africa, leading to an estimated $1.3 billion annual loss to the African economy. My research, funded by my Wellcome Trust senior fellowship, is focused on studying two main aspects of T.b. gambiense infections. 1. How the parasites cause infection? 2. How humans fight that infection?
Recommendation: 1
28 Oct 2022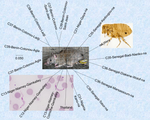 Development of nine microsatellite loci for Trypanosoma lewisi, a potential human pathogen in Western Africa and South-East Asia, and preliminary population genetics analyses
Preliminary population genetic analysis of Trypanosoma lewisi
Recommended by Annette MacLeod based on reviews by

Gabriele Schönian

and 1 anonymous reviewer
Trypanosoma lewisi is an atypical trypanosome species. Transmitted by fleas, it has a high prevalence and worldwide distribution in small mammals, especially rats [1]. Although not typically thought to infect humans, there has been a number of reports of human infections by T. lewisi in Asia including a case of a fatal infection in an infant [2]. The fact that the parasite is resistant to lysis by normal human serum [3] suggests that many people, especially immunocompromised individuals, may be at risk from zoonotic infections by this pathogen, particularly in regions where there is close contact with T. lewisi-infected rat fleas. Indeed, it is also possible that cryptic T. lewisi infections exist but have hitherto gone undetected. Such asymptomatic infections have been detected for a number of parasitic infections including the related parasite T. b. gambiense [4].

Despite the fact that T. lewisi parasites pose a risk to human health, very little is known about their population structure, reproductive mode, population size or dispersal. In the article [5], Ségard et al. presented the first attempt at examining the population structure of the parasite. They developed microsatellite markers and used them to analyse a small set of samples from West Africa and Southeast Asia. Although the number of microsatellite markers is not very high and they encountered problems of PCR amplification especially of the southeast Asian samples, they did provide preliminary data that hints at a clonal population structure with rare recombination and suggests population subdivisions occurring at a scale that is equal, and probably smaller than a neighborhood of several houses with a short generation time. These are very interesting preliminary findings that will need to be validated using a larger cohort with more markers or by whole genome sequencing.

References

[1] Hoare CA (1972) The trypanosomes of mammals. A zoological monograph. The trypanosomes of mammals. A zoological monograph.
[2] Truc P, Büscher P, Cuny G, Gonzatti MI, Jannin J, Joshi P, Juyal P, Lun Z-R, Mattioli R, Pays E, Simarro PP, Teixeira MMG, Touratier L, Vincendeau P, Desquesnes M (2013) Atypical Human Infections by Animal Trypanosomes. PLOS Neglected Tropical Diseases, 7, e2256. https://doi.org/10.1371/journal.pntd.0002256
[3] Lun Z-R, Wen Y-Z, Uzureau P, Lecordier L, Lai D-H, Lan Y-G, Desquesnes M, Geng G-Q, Yang T-B, Zhou W-L, Jannin JG, Simarro PP, Truc P, Vincendeau P, Pays E (2015) Resistance to normal human serum reveals Trypanosoma lewisi as an underestimated human pathogen. Molecular and Biochemical Parasitology, 199, 58–61. https://doi.org/10.1016/j.molbiopara.2015.03.007
[4] Büscher P, Bart J-M, Boelaert M, Bucheton B, Cecchi G, Chitnis N, Courtin D, Figueiredo LM, Franco J-R, Grébaut P, Hasker E, Ilboudo H, Jamonneau V, Koffi M, Lejon V, MacLeod A, Masumu J, Matovu E, Mattioli R, Noyes H, Picado A, Rock KS, Rotureau B, Simo G, Thévenon S, Trindade S, Truc P, Reet NV (2018) Do Cryptic Reservoirs Threaten Gambiense-Sleeping Sickness Elimination? Trends in Parasitology, 34, 197–207. https://doi.org/10.1016/j.pt.2017.11.008
[5] Ségard A, Roméro A, Ravel S, Truc P, Gauthier D, Gauthier P, Dossou H-J, Sylvestre B, Houéménou G, Morand S, Chaisiri K, Noûs C, De Meeûs T (2022) Development of nine microsatellite loci for Trypanosoma lewisi, a potential human pathogen in Western Africa and South-East Asia, and preliminary population genetics analyses. Zenodo, 6460010, ver. 3 peer-reviewed and recommended by Peer Community in Infections. https://doi.org/10.5281/zenodo.6460010